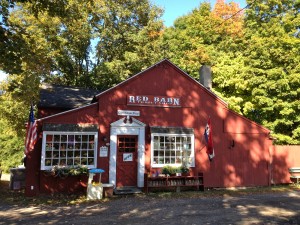 The Red Barn and the Parsonage Boutique sell gently used clothing and shoes from top designers like Ann Taylor, Tommy Hilfiger, Ralph Lauren, Aeropostale, Talbots, Coach, LL Bean and many more.  We also feature books, small appliances, toys, games, handbags, home décor, linens, furniture, jewelry, and collectibles.
Profits from sales at the Red Barn and Parsonage Boutique support First Church operations and outreach missions, as well as community, national, and world-wide organizations.
The Red Barn is located at 214 Main Street South in Woodbury, just behind the First Congregational Church, on the corner of Main Street/Route 6 and Judson Avenue.  We are open Tuesdays through Saturdays, from 10:00 a.m. 'til 3:00 p.m.  Please – no donations after 2:00 p.m.!  Donations are ONLY accepted during shop hours.
Click HERE to visit The Red Barn Website for details on donations, shop hours, and directions.
Click HERE to visit The Red Barn's Facebook page for updates on special events and sales, and photos of typical inventory.